Detailed

Interiors
Painting and finishing interiors of your home or business takes special care so that your finished product is excellent and your furnishings and business equipment are protected.
Is your home your castle?
While your home may not be as extravagant as this one painted by Ponce Painting, your home or business deserves to be serviced and protected just as if it was... this is how we servce all of our clients.
Each of our clients is treated with the same great care by our qualified employees and our supervisors, who are always on site.
A great interior needs preparation
Yes, it is important to mask the paint area to prevent overspray and bleed. AND, it's always important to ensure that the customer's furnishings, carpet and flooring are equally protected from overspray.
We ensure that all surfaces are properly prepared to ensure good adherence for our paint or finish, that areas are properly masked off, and that all adjacent areas and furnishings are protected.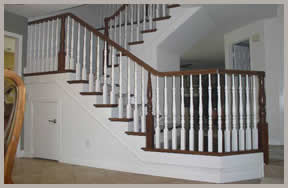 Staircases
Staircases represent a challenge to most painters. The key to a successful painting or finishing of a beautiful staircase is not to skip any step.
Often a combination of paint of some sections of your staircase and natural wood finishes on other parts give a great final finish to your staircase. We work with you to achieve the best!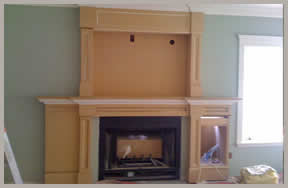 Fireplace Mantels
Today, people want to update their fireplaces. Some wish to just modernize the design and they need finishing while others want to incorprorate the modern audio and video technology to turn their living room into an entertainment center.
We have extensive experience with many requests, refinishing all types of surfaces, and working with entertainment center specialists to build and finish a beautiful new mantel.
Interior

Services
Cabinets refinishing and painting

Drywall installation and texturing

Stair handrail/spindle finishing and painting

Popcorn ceiling removal and texturing

Wallpaper removal

Fire & water damage repair

Occupied offices

Nights and Weekends available for commercial buildings
Preparation

Services
Stripping Paint
If paint applied previously by another contractor has not adhered properly, we remove it first so that our paint will adhere well to the surface.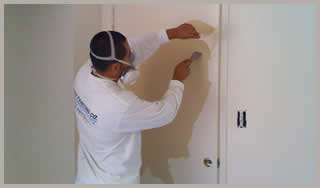 Cabinet (Wood) Refinishing
Just like a paint surface, Ponce Painting ensures that wood surfaces are well prepared so that the paint or stain adheres properly to the new surface.