Professional

Exteriors
We sevice a broad range of building exteriors: commercial, business signage, apartments/condominiums, and home residences.
Commercial Buildings
That bright, strong sun we all love in Southern California guarantees that your building exterior and building signage will weather.
If you want to preserve your building, your asset, from rain intrusion and keep your business appearance bright and sharp to attract your customers, then this requires repainting and/or refinishing your buiding's exterior to protect it.
Business Signage
The question is how often do you want to do repaint or refinish your exterior?
If you use quality products as we do from paint suppliers such as Dunn Edwards, Sherwin Williams, Frazee Paint, Benjamin Moore, Vista Paint, and Ici then you pay for repainting or refinishing your building's exterior less often.
Get the quality up front and save in the long run!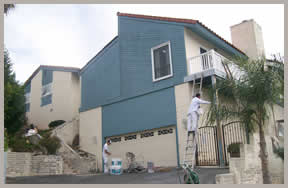 Apartments & Condominiums
We have extensive experience painting large, multi-dweller buildings and are practiced at working with apartment building owners and condominium associations.
Of particular value to these customers is our ability to manage repairs to the buildings from termite and rot as well to deliver repairs and upgrades to walkways, fences and retaining walls.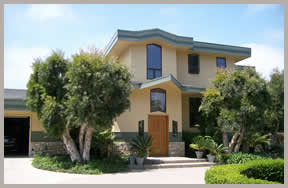 Residences
Whether you home is small or large and whether you need just a maintenance coat or you need repairs before painting, we can take care of your needs.
Most importantly, you will have competent, vetted painters working for you and direct access to their supervisor and the company's owner.
Exterior

Services
Elastomeric coating

Graffiti removal

Anti-graffiti sealers

Pressure washing

Mildew bleaching

Concrete custom staining and sealer

Termite and wood rot repair

Home owners associations, condominium projects & apartments

Commercial & industrial buildings

Retail tenant improvement

Local and federal government contracts
Preparation

Services
Pressure Washing
Concrete Custom Staining